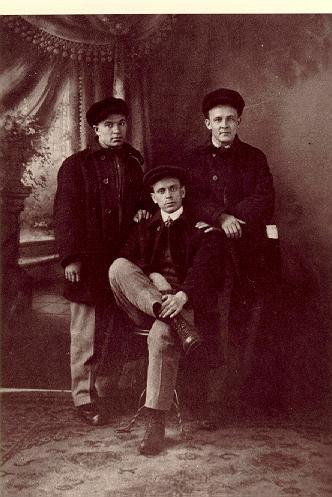 "A.J." Ananias Jack
Jack was born around 1900. He attended Suomi College in Hancock, Michigan and according to a yearbook from Suomi was a class officer. He married Edith in 1922. They had four children. He died March 5, 1953.
The picture to the left, I assume to be brothers. I do not know which of them is Jack.
Obituary:
Jack Pontinen, 60, Virginia died Thursday at his home following a brief illness. Born in Kupio, Finland, he came to this country to Ely in 1912. He graduated from the Ely schools and graduated from Suomi College in 1921. He married Edith Jokinen in Duluth in 1922 and came to Virginia in 1923. He was employed by the Juninila Clothing store and later by Alto's. He was a member of the Zion Lutheran church and its financial secretary, and a member of the church council, the Men's Brotherhood, and Chapel Singers, and the Knights of Kaleva. He is survived by his wife, Edith; three sons, William, with the armed forces stationed at Bainberidge, Ga; Wilbert, Galion, Ohio, and John with the armed forces at Scott Field, Ill., and a daughter, Mrs. James Micheletti, Rapid City, S. D. Funeral arrangements are pending at the Tampte Funeral Home, Virginia. The family requests that no flowers be sent but that contributions be made to the Memorial fund of Zion Lutheran church.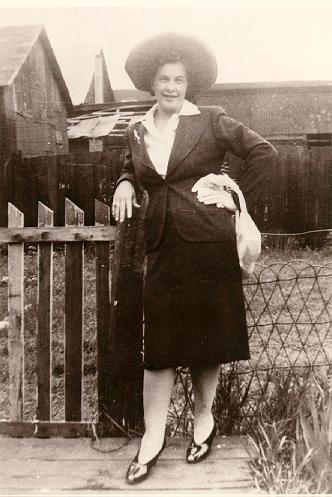 Edith Muriel

Edith was born March 16, 1900 in Finland. She had three sisters, Emily, Martha and Lillie. Emily and Lilly lived in California. Martha was married and lived in Minneapolis.She had one brother, Frank.
(below is her obituary)
Edith
Virginia -- Funeral services for Edith M. E, 85, formerly of Virginia will be at 3 pm. Friday at the Greenwood Cemetery in Virginia.
The Rev. Kenneth R. Tamte will officiate. Arrangements are by Range Funeral Home of Virginia.
She died Wednesday at Park Point Manor in Duluth.
Born March 16, 1900, in Finland, she came to Sparta in 1903. She had lived in Duluth and Lake Crystal before moving to Virginia in 1923. Mrs. E had resided at the Virginia Convalescent Center for 10 years before going to Park Point Manor in June of 1985. She had been a nurse for the late Dr. Goodman in Virginia. On October 23, 1922, she was married to Jack in Duluth. He died March 5, 1953. She later married Ralph E.
Surviving are her husband, Ralph of Duluth; three sons, William of California, Wilbert (Jane) of Ohio, and John; one daughter, Muriel of Rantoul, Illinois; 14 grandchildren, 18 great-grndchildren and numerous nephews and neices