Clark and Susan Lewis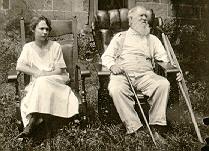 Click on the picture to go back to Leona Kling Hazlett
This picture was taken on August 12, 1919.
Leona Harnagel was 23 years old and Clark Lewis was 85.
This picture is of Clark's wife, Susan Lewis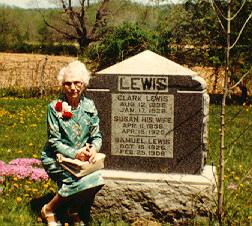 (Click on this picture to go to Leona's son, Jim)
This is Leona Kling Hazlett Harnagel sitting in a family burial site at the tombstone of Clark and Susan Lewis. This picture was taken in 1982.
The stone says:
Clark Lewis
August 12, 1836
January 17, 1928
Susan, his wife
April 11, 1836
April 15, 1920
Samuel Lewis
October 18, 1826
February 25, 1908