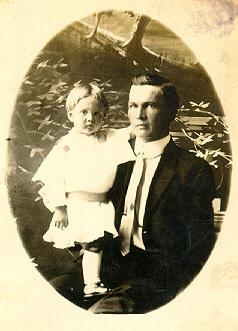 Oscar and his daughter, Ruby Lee
(rollover photo)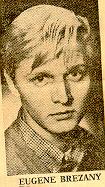 (rollover photo)
Ruby Lee's son, Eugene Brezany, from a newspaper clipping given to me by my Great Uncle Frank Hackworth. (mouse rollover for current photo .. click to enlarge photo)
Eugene and I are second cousins.


Oscar's two sons, Winston and Jack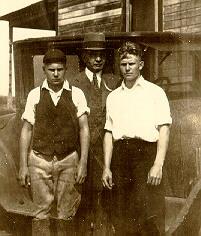 Oscar with his sons
O.W. removed to California in 1921 on the death of his first wife, Osa Oaks Clark. Three children by this marriage, were placed in the perpetual care of relatives residing in Missouri and Kansas.
In mid-life O.W. had only one arm -- having lost the other, from the forearm down, following a hunting accident in which he was shot. After a too lengthy drive for treatment, the limb had to be amputated. It is reported that he could do quite well with one arm: tie shoes, tie; even turn upright in a handstand on the arm of a chair.
Living to the age of 70, O.W. passed on on September 29, 1959 in California where he had had real estate ventures in Venice. Interred on the north side of Cahuenga Mountain, overlooking the Warner Brothers and Disney Studios in Forest Lawn Cemetery -- Hollywood, may he rest in peace.
<--- to the left
Ruby Lee with her husband Dr. Brewington and their daughter, Mary.
Ruby was a first cousin to Rosie, Edith, Jane, Ruth, Hazle, Frieda and Gerry.
Note from Eugene:
Also, my mom's first husband was named Harvey J. Brewington, Jr. To the best of my knowledge he was not a doctor. I believe he was an insurance salesman during the time they were together. He was the father of my late and much missed half-sister Marylee.
(Eugene, can you help with this one?) ----->
Eugene's answer: I figure the woman with O.W. is quite likely Gertrude J. Wileman referenced below.* I recall sitting in your Aunt Hazel's living room a few years back trying to convince her that that woman was one of her sisters. I had little luck with that. Hazel exclaimed with some mounting displeasure something to the effect of: "I should know what my sisters look like and this woman is not one of them!"
* ... his [second] "marriage" announcement as it appears on a cl ipping (probably from the Wayne county Journal Banner - no date)
Married in California. The news of the marriage in Hollywood, California, in May, 1925, of Judge O. W. Hackworth, former prominent citizen of Wayne County, to Miss Gertrude J. Wileman, member of a pioneer Chicago family, has just reached here. Although Judge Hackworth has visited Piedmont two or three times during the past year he gave no intimation to his friends that he had become a benedict. Until his removal from Piedmont a few years ago, Judge Hackworth was one of the leading citizens of the county, having been a member of the State Legislature and also Presiding Judge of the County Court. He is now engaged in business in Chicago, where he and Mrs. Hackworth reside at 7100 South Shore Drive.